New Delhi: Nowadays, we are all obsessed with a good figure. Most of us spent time in the gym hitting heavy machines, hoping to get a good physique.
Many advertisers and YouTube channels earn a lot by spreading misinformation regarding weight loss. You may have seen advertisements, claiming extra weight can be reduced in 7 days by taking some kind of 'Churan' or drinking 'special tea'.
But, is it really possible to lose weight in 7 days? Well, the answer is no.
In order to lose weight, one must understand the connection between calories and workouts. Some people starve themselves the whole day thinking they will lose weight easily.
Naturally, our weight increases when we start consuming more calories. Our body type, age, lifestyle, and total activity also play an important role in our body.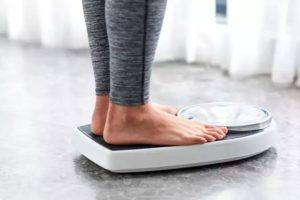 Green tea and Apple Cider Vinegar alone are enough to lose weight?
If you are forcing yourself by thinking that you can cut weight by simply consuming them then take a break, there is no significant research that a person will lose weight after consuming green tea and apple cider vinegar.
These two things are indeed calorie-free and help a person reduce calories. But, if you are prone to acidity don't consume Apple Cider Vinegar.
Can you lose weight overnight?
Well, it takes months and sometimes even years to lose weight. Don't be hard on yourself as you didn't put weight overnight.
Some Healthy Recommendations
Don't eat when you are watching TV OR while using mobile phones: The reason is we lose control and forget how much our stomach needs.
Drink plenty of water and be hydrated: Staying hydrated not only removes toxins from the body but also helps you to control cravings.
Cheat meals: Someday it is important to give the body a rest by having your favorite food too so that you can stay focused. But make sure you are not including sodas and fried things.
Replace namkeens, and biscuits with good and nutritive snacks like 'Makhana, Chana and Sprouts.
Divide meals into small portions to avoid eating unhealthy food.