New Delhi: Stephen Wilhite, the mastermind behind the internet-popular short-video format, the GIF breathed his last at the age of 74. The news was confirmed by his wife on Thursday over a phone interview that the inventor of the GIF died due to Covid complications on March 14.
Wilhite was an awardee of Webby lifetime achievement award in 2013 for his extraordinary creation. His creation even after decades became omnipresent in memes and on social media, which is often used for the cheeky representation of contemporary culture.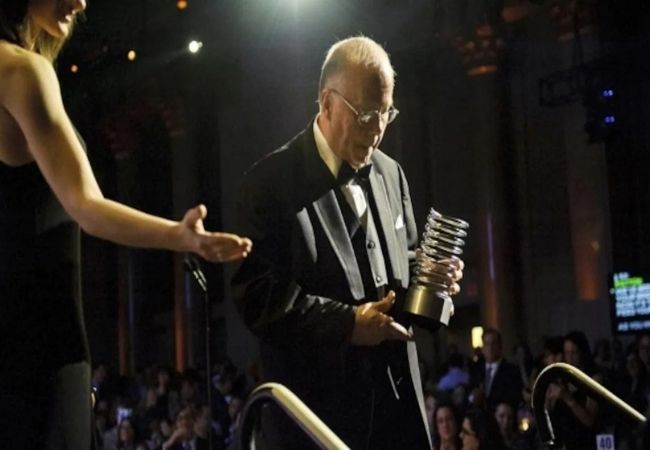 The GIF was first invented when Wilhite was working at CompuServe in 1987. In an interview with the New York Times in 2013, he stated, "I saw the format I wanted in my head and then I started programming," with the first image was that of an airplane and that the file had only one pronunciation – a soft "G" like Jif peanut butter. Further, he added, "The Oxford English Dictionary accepts both pronunciations. They are wrong. It is a soft 'G,' pronounced 'jif.' End of story."
Post his demise, the Twitter users used their best possible way to honour him, mostly with GIFs. Wilhite once said that one of his favourite GIFs was the dancing baby that went viral even before we used the term viral on the internet.
Here is how netizens honoured him for becoming an integral part of today's internet culture. Take a look:
RIP Stephen Wilhite, creator of the GIF. This was the first GIF ever created in 1987. pic.twitter.com/gqtMBqEOdg

— Blade McG (@Blade__McG) March 23, 2022
The GIPHY team is sad to hear of the passing of Stephen Wilhite, the creator of the GIF file format.

GIPHY was built on a sincere love for the GIF — and we are indebted to the creativity and vision of Mr. Wilhite 💕 pic.twitter.com/CTPS895wCQ

— GIPHY (@GIPHY) March 23, 2022
rip Stephen Wilhite #gif pic.twitter.com/u5oLqu22UB

— ¯_(ツ)_/¯ (@pixelastronaut) March 23, 2022
Rest in Peace Stephen Wilhite
Creator of the GIF…
Thank You #StephenWilhite without you #Twitter would be boring! pic.twitter.com/7RCZAb2TOS

— Anjee W (@Anjeew) March 24, 2022
Salute to Stephen E. Wilhite (March 3, 1948 – March 14, 2022), lead developer of gif format. Dancing Baby was his favorite gif. pic.twitter.com/6fcEFw59tC

— Mika Paananen (@painmike1) March 24, 2022
Thank you Stephen Wilhite.
RIP https://t.co/TlxKebqHMW pic.twitter.com/bLPXHSTg1Q

— The Regressor: Comms closed🏳️‍🌈🏳️‍⚧️✊🏾 (@the_regressor) March 23, 2022
Today Stephen Wilhite died. he worked on the development of the .gif format in the eighties.
Working in that format has taught me a lot. so
I leave here one of my first gifs. pic.twitter.com/TaDfUrzHFd

— ☁ (@canekzapata) March 24, 2022
D.E.P Stephen Wilhite pic.twitter.com/9Ke8Wk8gRC

— Funderelele (@Funderelele) March 24, 2022
GIF creator Stephen Wilhite dies at 74 😔 pic.twitter.com/tlr77Gn5Oh

— World of Engineering (@engineers_feed) March 24, 2022
Stephen Wilhite, who created GIFs, dies at 74 pic.twitter.com/6jClYUWbDh

— #BidenLandslide🌊 🇺🇸🇺🇦 (@JDIYFR) March 24, 2022
Stephen Wilhite, creator of the 'GIF,' dies at 74.
Wilhite began his career at Compuserve, the first major commercial online service provider.
In 1987, he created the Graphics Interchange Format (GIF) in order to compress images to make then accessible for early modem speeds. pic.twitter.com/zWgCeCINYt

— Megan (@333MMM333MMM) March 24, 2022
The creator of the GIF format, Stephen Wilhite, fqing died yesterday. An unsung fqing hero pic.twitter.com/cqDkRkoeUs

— FuckYouBuyMe (@FuckYouBuyMe) March 24, 2022
Stephen Wilhite, the creator of the animated GIF image format, has died. His wife Kathaleen has confirmed he passed away on March 14 from the effects of Covid. pic.twitter.com/92gQ7BnkHq

— Incunabula (@incunabula) March 24, 2022
Thank you for the GIF, Stephen Wilhite, RIP pic.twitter.com/RsdiyJ7T7U

— Judson (@JudsonK17) March 23, 2022
Stephen Wilhite, inventor of the GIF has died. RIP. (And he pronounced it "jif." pic.twitter.com/C89yLhNpsK

— Michael Woyton Is Fully Vaccinated (@woyton) March 23, 2022
Stephen Wilhite, father of the GIF, passed away. To him, I say… pic.twitter.com/REaklVcbEM

— David Wood (@DarthChiliDawg) March 24, 2022
The guy who created GIFs, Stephen Wilhite, passed away. In his honor I will pronounce Gif with a J for the rest of the week the way he would have wanted it. pic.twitter.com/cD920mWoqN

— Brad Colbow (@bradcolbow) March 24, 2022
I just learned that Stephen Wilhite, the creator of the GIF, has died at 74… in his honor & to celebrate his legacy please respond to this thread with your favorite GIF.. I love using GIFs & want to genuinely appreciate Stephen for his wonderful contribution to internet culture pic.twitter.com/WcDrRl5M1q

— Immigrant_daughter (@immigrantkiddo) March 24, 2022
Stephen Wilhite, creator of the #gif, has passed away at age 74. Here's the first reaction gif I ever made. #RipStephenWilhite pic.twitter.com/MNUUci4plG

— Price Garrison (@abelardthebard) March 24, 2022
Tip of the cap, to Stephen Wilhite. I was in a dark, dark, place. Creatively, emotionally, I had given up. Nothing brought me joy. Slowly, I started making gifs. I've found I'm pretty good at it. More importantly, it brings me joy. It's reignited my creativity. pic.twitter.com/ccSImgWa77

— Waiting for Friday The 13th (@groovieghoul) March 24, 2022
Stephen Wilhite, creator of the GIF has passed away…he wanted it to be pronounced with a soft J. As in JIF (those who are curious) pic.twitter.com/tN8fBXMQCF

— Eric Maleski (@emales21) March 24, 2022
For Stephen Wilhite, a trailblazer whose innovation we all take for granted, I present my most commonly-used GIF. pic.twitter.com/fBBqC9SEWd

— Cameron Frew (@FrewFilm) March 23, 2022